"This is your day to manipulate matters cleverly behind the scenes to improve your happiness"
The event took place on June 5, 2023, 6:30 p.m. at MASI Lugano, LAC venue, Piazza Luini - Lugano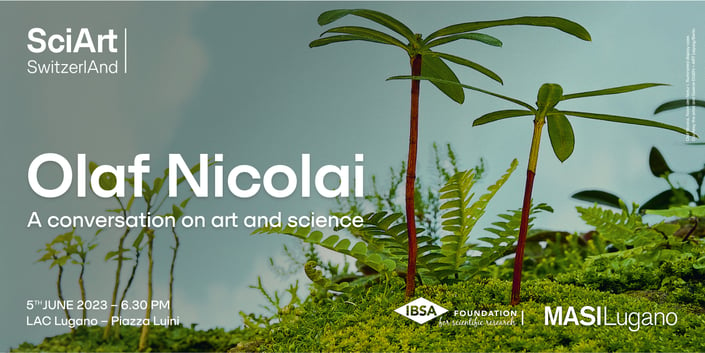 Photo: Olaf Nicolai, "Nach der Natur I", Illuminated display case. Courtesy the artist and Galerie EIGEN + ART Leipzig/Berlin

Kick off of the new Science and Art project - SciArt SwitzlerlAnd

For the first SciArt SwitzlerlAnd event, Olaf Nicolai, one of Germany's leading artists, explored his relationship with science in a conversation moderated by Valentino Catricalà, researcher and curator of contemporary art.

Nicolai consistently translates scientific theories into art aesthetic idioms, making them accessible through new contexts, and incorporating scientific discoveries into his creations. His fascination with mathematical patterns, universal algorithms, symbolism, and regular patterns is evident in many of his installations. His conceptual approach and continuous use of different media and materials challenge the way we view our everyday environment.


Olaf Nicolai
Considered one of Germany's leading artists, Olaf Nicolai takes on a range of conceptual themes, from political and cultural critiques to inquiries into human perception. A recurring subject is the aesthetic appropriation of nature by human culture and design, explored through mixed-media sculptures and images, as in his juxtaposition of plant forms with depictions of hand gestures in Italian Renaissance paintings. "Questions of form, moods, attitudes, and style are not just vain play with surfaces," Nicolai has said. "They are questions of organizational forms of activities." In his recent work Escalier du Chant (Staircase of Song) (2011), Nicolai took over the sweeping staircase of Munich's modern art museum, Pinakothek der Moderne, for one Sunday of each month in 2011. Throughout the day, performers would sing the songs of 12 international contemporary composers—which addressed political issues that took place throughout that year—creating a new aesthetic context for the year's political events.
Valentino Catricalà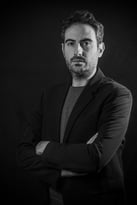 Researcher, curator of contemporary art. He is currently curator of MODAL Gallery at SODA Manchester and lecturer at IULM University. He is responsible for the digital art area of La Quadriennale di Roma and co-curator, together with Barbara London (MoMA), of the D'ORO/D'ART project in collaboration with D'ORO Collection and Marian Goodman Gallery.
Valentino has curated exhibitions in major institutions, such as Fondazione Prada (Milan and Tokyo), Hermitage (St. Petersburg), Minnesota Street Project (San Francisco), New York Media Centre, Stelline (Milan), MAXXI Museum (Rome), Palazzo Reale (Milan), Palazzo delle Esposizioni (Rome), Ca' Foscari (Venica), New Delhi Italian Cultural Institute (India), among others.

He has written several books, including The Artist as Inventor (Rowman & Littlefield, 2021); co-edited with Sean Cubitt, Art in the Age of Ubiquitous Media (VCS-Visual Cultural Studies, Mimesis, 2022). For the Foreign Ministry, he wrote Art and Technology in the Third Millenium (Electa-Quaderni della Farnesina 2019). Valentino edits, together with Luigi Maccallini (Next Innovation Manager BNL), the art and innovation column for WIRED Italia.

---
What is SciArt SwitzerlAnd?
SciArt SwitzerlAnd is a project of IBSA Foundation for scientific research and MASI Lugano, Museo d'arte della Svizzera italiana born with the aim of creating a stimulating discussion between two distant fields united at the same time to promote scientific culture within an international research path on science and art.

Through different event formats and digital products, SciArt SwitzerlAnd intends to cast its gaze on those artists' works that have been transformed through interaction with scientists, discoveries and research institutions.
Science and art have always coexisted across time and space. Though with different methodologies and purposes, artists and artists, scientists and scientists, observe the world around them, opening us to new perspectives, interpretations and meanings.
The public will be able to get close to fascinating creations born from the encounter between these two dimensions, and hear from the living voices of the artists and female artists how science, technology and research have inspired their work.
SciArt SwitzerlAnd is connected to the series of dialogues "La scienza a regola d'Arte" concluded in 2022, the result of the fruitful collaboration between IBSA Foundation and MASI Lugano.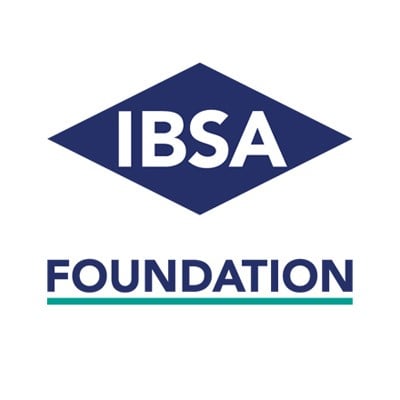 Editorial IBSA
The IBSA Foundation for scientific research promotes authoritative and accessible science education for health protection and supports young students and researchers through Fellowships and many other dedicated events.