The coronavirus emergency, as we know, has radically changed all of our lives. Almost always by necessity, but sometimes by choice. This was the case of Maxime Mbandà, a rugby player for the Zebre team in Parma and the Italy national rugby union team, who took off his rugby shirt to put on the uniform of a volunteer ambulance driver.
"I went from a rugby shirt to wearing all the necessary personal protection equipment and coming into contact with doctors and nurses, who were under great stress. When I joined Parma's Croce Gialla (Yellow Cross) I thought that I had to take food and medicine to the elderly, but instead I found myself transferring Covid-19 patients from one hospital to another, helping with stretchers or wheelchairs and holding oxygen".
For the entire duration of this demanding match, Maxime gave everything he had, aware that his contribution enabled doctors, resuscitation specialists and nurses to take a break and have a moment of rest that could have been crucial.
On his social media pages, he wrote:
"They were the 70 hardest days of my life. I transported more than 100 patients and did back-breaking shifts where I had lunch in the evening, because I couldn't take off that suit so as not to risk getting infected until I was sanitized. I made myself a promise before getting into an ambulance for the first time and I tried to respect it: I wanted to be of service as much as possible and I actually felt guilty when I wasn't with the Yellow Cross helping other volunteers".
Maxime's choice caused a considerable stir and was much appreciated in the national and international rugby scene, as well as in the world of sport in general. But it didn't stop there.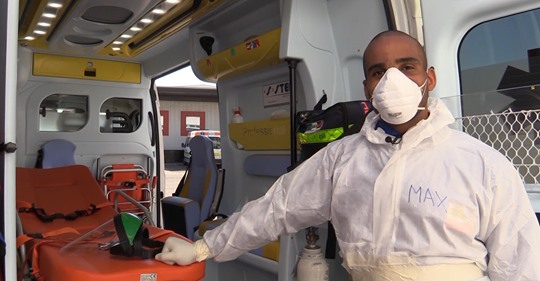 During the June 2 celebrations, the President of the Italian Republic, Sergio Mattarella, awarded special recognition to "a leading group of citizens, with different roles, professions and geographical origin, who particularly stood out due to their service to the community during the coronavirus emergency". Among them was Maxime, who was awarded the honorary title of Cavaliere al merito della Repubblica italiana ("Knight of the Order of Merit of the Italian Republic") for his embodiment of the values of sport also in his activities as an ordinary citizen.
Maxime has now gone back to training, but he has no intention of stopping: "I have admitted more than once during this period that I regret not having started earlier and from now on I will recommend people to try to work as volunteers and to feel the emotions that it gives you, which cannot be compared with any other experience".

Luca Nicola
Copywriter since 1988, he began his career in De Agostini, and then chose to continue as a freelancer. Graduated in Philosophy, he is currently also a professor of Web Marketing at the Federlegno Training Center. As a communication consultant, he has been working for many clients for many years, including some large international groups. In 2012 he opened the personal blog "Mela N" where he deals with topics related to Writing, Communication, Content Marketing and Storytelling.