Françoise, the virologist who discovered the HIV virus
Françoise Barré-Sinoussi won the 2008 Nobel Prize in Medicine, together with Luc Montagnier, for the discovery of human immunodeficiency virus (HIV), the cause of AIDS. Her research has been instrumental in radically improving the therapies used to treat patients.
Françoise's story
We are not making science for science. We are making science for the benefit of humanity.

[Françoise Barré-Sinoussi]
Françoise was born in Paris in 1947, the city where she still lives today. As a child she spent long periods of time in the countryside: her great attraction to the natural world was perhaps the first sign of the direction her life would take in the future.
When she finished high school, Françoise decided to enrol in the faculty of Natural Sciences instead of Medicine, so as not burden her family, who were not particularly well-off.
During her university years, she worked as a volunteer at the Institut Pasteur, where Jean-Claude Chermann was studying retroviruses (the viruses that convert their own genome from RNA to DNA during their replication cycle), which cause leukaemia in mice. Françoise was so enthusiastic about the research that she spent all her time in the laboratory and only went to university to sit her exams.
After completing her PhD in 1974 and spending a period of time in the United States, at the National Institutes of Health, Françoise returned to the Institut Pasteur. Her laboratory, run by Luc Montagnier, investigated the link between retroviruses and cancers. And it was precisely there that in 1982 many doctors looked to understand the mechanisms of a new mysterious disease, which seemed to predominantly affect homosexual men and was assumed to be caused by a retrovirus.
On February 4, 1983, Françoise and Montagnier observed the retrovirus that caused AIDS for the first time under an electronic microscope and on May 20 of the same year they published the article in the journal Science in which they announced that AIDS was caused by HIV. A virus so powerful that it seriously damaged lymphocytes to the point of destroying an individual's immune system. Their major discovery led to the development of specific blood tests to detect the infection and to study antiretroviral drugs that help keep AIDS patients alive.
In 1988 Françoise got her own laboratory in the Institut Pasteur and became head of the Biology of Retroviruses Unit in 1992, where she remained until 2015. In 2008 she won the Nobel Prize in Medicine. In the following years, her research group initiated projects, partnerships and scientific exchanges with numerous African and Asian countries.
Her personality
I knew as a scientist that we will not have a treatment tomorrow because we know that science needs time to develop drugs. To see the patients dying and expecting so much from us, it was terrible.

[Françoise Barré-Sinoussi]
Françoise is a passionate woman and activist, who loves to call herself a scientist and an activist at the same time. She has travelled throughout Africa and Southeast Asia, promoting better public education on the prevention of AIDS and creating centres for identifying and treating cases of HIV infection.
Achieving the Nobel Prize encouraged her greatly to intensify her commitment and use the visibility acquired to support her cause with governments and institutions.
As she has publicly admitted, being at the front line in the battle against AIDS has been very hard psychologically. In 1996 Françoise suffered from depression and for a certain period of time withdrew from her public commitments. But she quickly recovered and returned to the fight, stronger and more determined than ever.
Like everybody, I have some times in my life when I'm pessimistic. I wonder whether I should continue… Then I go and have a trip to Africa or Southeast Asia and have a small meeting with people affected by HIV, and I forget my mood. I say, 'OK, let's go on. Let's continue. This is real life. Don't think about yourself'.

[Françoise Barré-Sinoussi]
Her research
After devoting her entire career to studying AIDS, in recent years Françoise has focused her efforts on developing a global strategy to combat the disease, involving scientists, doctors, patients and ordinary citizens and institutions.
In addition to working on a better understanding of the pathogenesis (growth and progression on the disease) of AIDS and the ways of controlling HIV, Françoise's research is aimed at examining the immune response that is developed with new experimental treatments, yet to be tested.
Françoise's goal is to develop increasingly effective antiretroviral therapies to be used in sub-Saharan African countries in particular, where a large number of people with HIV still do not have access to any treatment today.
So far more than 8 billion dollars have been invested in the search for a truly effective vaccine against the HIV virus, but unfortunately all attempts up to now have been unsuccessful. However, we can rest assured that Françoise will continue to work, both inside and outside laboratories, to defeat this terrible enemy of humanity once and for all.
---
Discover the other stories of the women who changed the history of medicine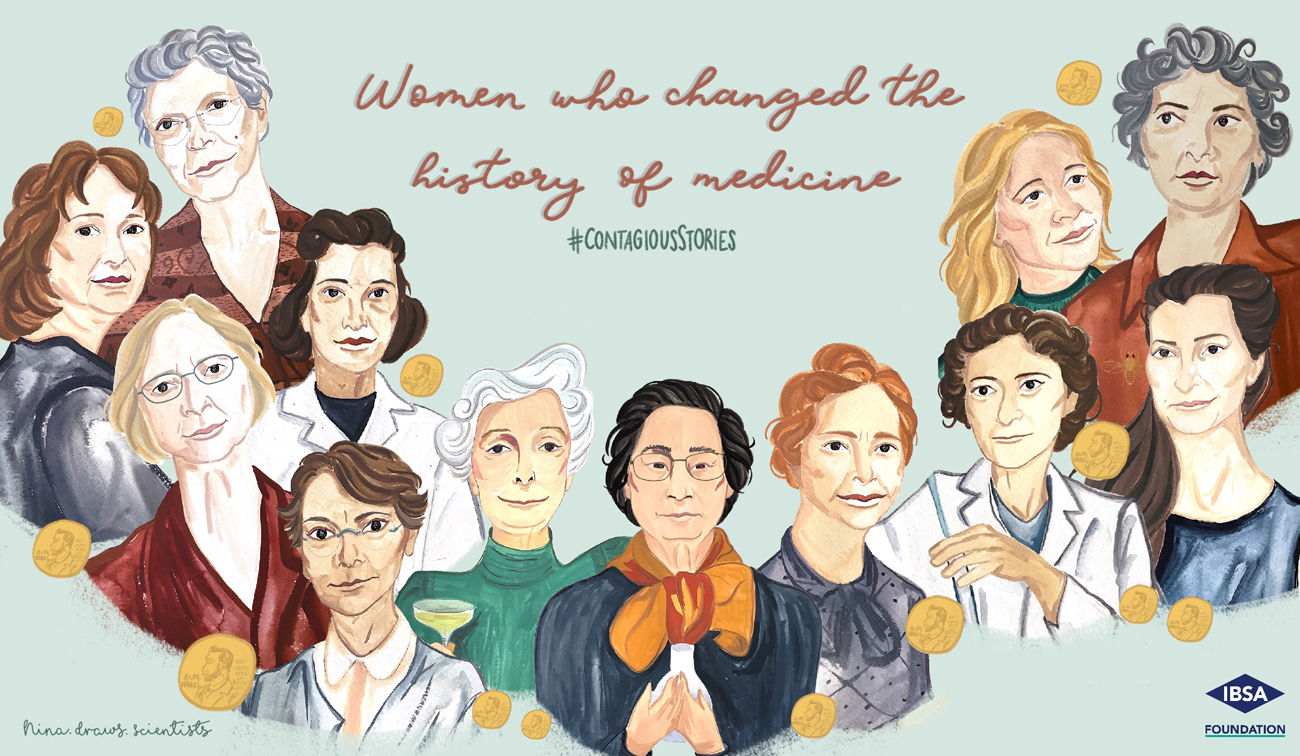 Women who changed the history of medicine | IBSA Foundation
It is a fact: women are under-represented among Nobel Prize winners.Between 1901 and 2019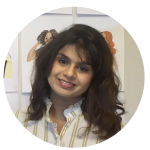 Nina Chhita is the artist and illustrator of the Instagram account @nina.draws.scientists, which focuses on contemporary and historical trailblazing scientists, who happen to be women. She initially started the account as a way to discover historical figures, and as a scientist herself, naturally gravitated towards scientists. Articles have since been written about Nina in the BBC news and Mental Floss. Her illustrations have appeared on the social media sites of the University of Oxford, the University of Bath, Dementias Platform UK, and in a YouTube video by Vanessa Hill. She lives in Vancouver where she works as a medical writer creating educational content for healthcare professionals.

Luca Nicola
Copywriter since 1988, he began his career in De Agostini, and then chose to continue as a freelancer. Graduated in Philosophy, he is currently also a professor of Web Marketing at the Federlegno Training Center. As a communication consultant, he has been working for many clients for many years, including some large international groups. In 2012 he opened the personal blog "Mela N" where he deals with topics related to Writing, Communication, Content Marketing and Storytelling.