Gertrude B. Elion won the Nobel Prize for Medicine for her research on acyclovir, an antiviral drug. Over her career she registered 45 pharmaceutical patents and was awarded 25 honorary degrees and doctorates.
In 1988 she co-won the Nobel Prize together with George Hitchings and James Black.
Gertrude's story
Nobody took me seriously. They wondered why in the world I wanted to be a chemist when no women were doing that.

[Gertrude Elion]
Gertrude was born in New York 1918 to Lithuanian and Russian parents. Her grandfather and her mother both died of cancer when she was a teenager. She planned to get married, but her fiancé became ill from infective endocarditis. He died just two years before penicillin became available, which could have saved his life. These dramatic personal vicissitudes convinced her to devote her life to scientific research.
After being awarded a degree from Hunter College in 1937, she was the only woman to be awarded a Master's degree in chemistry from New York University. In 1944 Gertrude got a job in the Burroughs Wellcome pharmaceutical company as the lab assistant to doctor George Hitchings with whom she was to share the Nobel prize 44 years later.
Gertrude and George developed a revolutionary approach, which consisted of a thorough examination of the differences between the biochemistry of healthy human cells and that of cancer cells, bacteria, viruses and other pathogens in order to pinpoint differences in how the nucleic acids are metabolized in these various cells. They subsequently used the information obtained to develop drugs that were able to kill the pathogen or block its production, leaving healthy cells intact.
Their approach constituted a momentous change and produced new drugs at an incredible pace. To the point that the Nobel Committee declared that each of the drugs developed by Gertrude and George would have been deserving of the award.
As soon as she retired, Gertrude became head of the Department of Experimental Therapy (which she had created) and continued to conduct research at Glaxo Wellcome in Research Triangle Park, North Carolina.
She died in Chapel Hill in 1999.
Her personality
When we began to see the results of our efforts in the form of new drugs which filled real medical needs and benefited patients in very visible ways, our feeling of reward was immeasurable.

[Gertrude Elion]
Gertrude was famous for her precision, intellectual brilliance and ability to work with others. She was cheerful and outgoing, a keen photographer and traveller. She also loved the opera, concerts, ballet and the theatre.
However, the predominant trait of her character was without doubt her stubbornness. She herself recalled several times that, at the beginning of the 1940s when she was looking unsuccessfully for a job as a chemist, she heard the same sentence repeated over and over again: "You're qualified, but we've never had a woman in the laboratory before, and we think you'd be a distracting influence".
And when she presented her first scientific paper at a major meeting, she got into an argument with a distinguished scientist, but stood her ground because she said "I knew I was right".
Gertrude trained and guided two generations of scientists, winning over all her students with her passion for science and medicine.
People ask me often whether the Nobel Prize was the thing you were aiming for all your life, and I say that would be crazy. Nobody would aim for a Nobel Prize because, if you didn't get it, your whole life would be wasted. What we were aiming at was getting people well, and the satisfaction of that is much greater than any prize you can get.

[Gertrude Elion]
Her research
In the 1950s the joint work of Gertrude and George led to the development of an innovative method of drug design that paved the way to new therapeutic strategies for the treatment of diseases whose remedies were unsatisfactory or simply did not exist.
One of the first drugs created from their research was the cure for leukaemia, which helped many children to survive the illness. Other drugs created by Gertrude and George were used to fight malaria, infections and gout, or to help patients that needed organ transplants.
The success of acyclovir (the drug for which she was awarded the Nobel Prize for Medicine) overturned the theories of many biochemists – including, at one time, even George's – who believed that it was impossible to discover effective and selective antiviral agents. Gertrude's stubbornness proved that these beliefs were unfounded.
The change of perspective introduced by Gertrude turned out to the fundamental for preparing the pharmaceutical industry to respond to the challenge of human immunodeficiency virus (HIV). In fact, it was the researchers trained by Gertrude that were the first to grasp the therapeutic potential of AZT, at the time an anti-cancer drug that hadn't been used since the 1960s, using it successfully to treat the disease.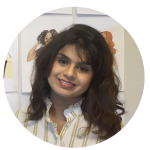 Nina Chhita is the artist and illustrator of the Instagram account @nina.draws.scientists, which focuses on contemporary and historical trailblazing scientists, who happen to be women. She initially started the account as a way to discover historical figures, and as a scientist herself, naturally gravitated towards scientists. Articles have since been written about Nina in the BBC news and Mental Floss. Her illustrations have appeared on the social media sites of the University of Oxford, the University of Bath, Dementias Platform UK, and in a YouTube video by Vanessa Hill. She lives in Vancouver where she works as a medical writer creating educational content for healthcare professionals.

Luca Nicola
Copywriter since 1988, he began his career in De Agostini, and then chose to continue as a freelancer. Graduated in Philosophy, he is currently also a professor of Web Marketing at the Federlegno Training Center. As a communication consultant, he has been working for many clients for many years, including some large international groups. In 2012 he opened the personal blog "Mela N" where he deals with topics related to Writing, Communication, Content Marketing and Storytelling.