It has been almost 4 years since the release of the WHO report highlighting the impact of the arts as a key resource for wellbeing and health. What has changed since then?
Several times in these columns we've referred to a report that we think of as a milestone or landmark in recognising the value of taking part in the arts and artistic expression at all stages of life.
In November 2019, the World Health Organisation-WHO Regional Office for Europe published 'What is the evidence on the role of the arts in improving health and well-being? A scoping review' (edited by Fancourt and Finn of UCL-University College of London). This analysed an extensive and growing body of evidence gathered in Europe over the last twenty years, focussing on the important impact the arts has as a resource for physical and mental wellbeing and health, from promoting health to prevention, adopting positive behaviour and helping manage and treat diseases. These consistent findings led the report to offer guidelines for policies to increase the impact of art-based methodologies.
What's been happening since 2019
When it was released, the report generated a great deal of excitement and impetus for research, developing expertise and practice, and a focus from policy makers, institutions and arts, social and educational bodies on the subject, and by the WHO itself, on key areas of intervention. Just a few months after its publication, the world, which was already undergoing radical social transformations, was overwhelmed by the pandemic, with 762 million cases and 6.9 million deaths (source: WHO 2023). This shock was compounded by the effects of lockdowns and the negative after-effects of Covid 19.
But Covid clearly demonstrated the role of the arts in mitigating its effects, in helping people cope with high-stress situation and control their emotions (Bradbury et al 2021), as well as staying connected to the world, and safeguarding and improving mental health. Several studies documented the increase in arts activities during the pandemic. According to a study by Mak, Fluharty and Fancourt, during the pandemic 20% of people in the UK (from a sample of 19,000 people interviewed) increased their participation in the arts. Other research (Baumann & Burke 2021) noted how virtual communities sharing artistic experiences also helped improve social connection and cohesion.
Mental health, a cornerstone for personal and social development
Only now are the effects of long Covid beginning to be understood. These are exacerbated by the war in Ukraine and by the climate and energy crisis, with its impact on migration and the economy. As a result, an unstable scenario is emerging that affects people's mental wellbeing.
The WHO Europe Region has devoted a great deal of attention to this major challenge to public health. Among its various strategies is multicentric operational research entitled Motherhood, in Denmark, Romania and Italy (Warran and Smith 2022) examining the feasibility of accompanying protocols based on singing activities in cases of postpartum depression, in different cultural settings. Results will be presented in Autumn 2023.
This is one of six studies in the CultureForHealth consortium's activities. The EU has appointed it to carry out early research for future policies aimed at gaining recognition for the role of the arts in what the OECD describes as the wellness economy (2019), advancing existing knowledge and supporting various actors in the field. Culture4Health, in which the WHO has played an active part, will end in June, but it has already produced an initial report based on over 300 studies that have emerged in recent years and mapped over 700 projects in Europe (you can read our comments here).
In its report, C4H points to a reference work published in 2020 by the WHO Europe Region: "Arts and Health: Supporting the Mental Well-Being of Forcibly Displaced People". This clearly shows the role of the arts in supporting migrants, refugees and aid workers, in encouraging self-expression to overcome trauma, develop skills, make their voices heard and create support networks. These effects are reflected in the host community and encourage acceptance, inclusion, social cohesion and belonging – key elements for happiness and well-being.
We know that mental illness is made worse by stigma, and how much the arts can help fight that (Gaiha et al 2021), as we can see in the case of the mental health of adolescents, another key challenge that has emerged over the last decade and has been made more evident by the pandemic. Creative activities - visual arts, literature, music and performance - have shown a positive impact in promoting self-expression, regulating emotions and reducing problematic behaviour, starting in school (Fluharty et al 2022). The arts help reduce the risk of alcohol dependency and smoking, as well as encouraging mutual aid among adolescents (Bone et al 2022) countering depression and its consequences.
The WHO Region Europe contributed to the Voices of Culture project, a structured dialogue promoted by the European Commission with arts organisations, which was dedicated to this public health priority last July. This led to a report published in early 2023 with areas of development that we discussed on this blog. Each report offers guidelines for policy makers.
Rigorously methodology leads to development
While the value of participating in the arts in all stages of life – from the cradle to active ageing – is obvious, the WHO has issued a few words of warning.
Unlocking the potential benefits of the arts for health and well-being requires concerted actions between various actors. The first need is for policies, strategy and dedicated investment that recognise the arts as an integral part of a holistic vision focused on promoting health and preventing disease long-term, within a framework of social equity, to fight inequalities of opportunity, education and poor relationships that are at the heart of economic poverty and health inequality. While the arts are good for health, taking part in them is unequal, both in terms of affordability and the background of the population that recognises it as a resource. Systemic and multimodal interventions are needed. Every policy should be focused on health, as indicated by the Helsinki conference in 2013.
Arts activities should be recognised as a complement to traditional medicine, helping to change a model that relies predominantly on a care system, instead of a model that puts people and their potential at its centre. To promote this, in a 2022 joint effort the World Health Organisation (WHO), the Social Prescribing Academy, the World Health Innovation Summit (WHIS) and the UNGSII Foundation published and circulated the Global Social Prescribing Alliance Playbook, a resource to spread good practices to improve the health and well-being of people and communities, support health services and create new job opportunities, with a view to social, economic and health sustainability. It offers clear indications to policy makers on how to implement social prescribing (and you can read more about it here).
There is also a need to spread and promote dialogue. The WHO has helped with various events around the world, the Healing Arts Initiatives and the arts have been linked to World Health Day '22, connecting individual health to the well-being of the planet, in a One Health perspective. The arts offer promising, low-risk, high benefits and also prove valuable in managing the symptoms of serious mental illnesses, like schizophrenia, trauma-related issues, severe depression and bipolar disorder (Chiang, Reid-Varley, Fan 2019). However, a lack of rigorous methodology prevents replicability and scalability.
In 2023, the WHO developed a new strategy to help develop these perspectives, with the Jameel Arts & Health Lab, a collaboration between the WHO Europe Region and the Steinhardt School at New York University (NYU), the Community Jameel and CULTURUNNERS launched a laboratory to coordinate and promote research on the effectiveness and value that the arts and creativity can have in improving health and well-being.
It is a clear direction for the future, which also includes creating new integrated skills, from higher education to continuing education, between sectors.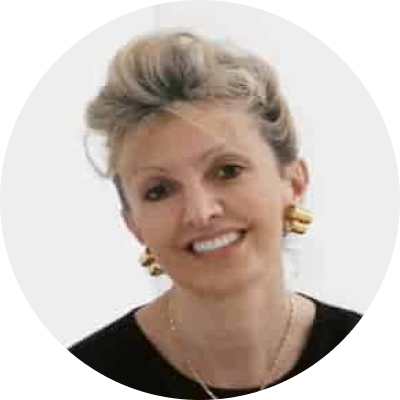 Catterina Seia
Co-Founder and President of CCW-Cultural Welfare Center; Co-Founder and Vice President of the Fitzcarraldo Foundation; Vice President of the Fondazione Medicina a Misura di Donna