Art activities, such as music and the participatory arts, have proven to play a significant role in improving the mental well-being of migrants who have undergone traumas and suffering. In order to ensure ongoing and effectual support, however, we must create solid networks and enduring alliances between the cultural and healthcare sectors.
The mental health of persons forcibly displaced by natural disasters, persecution, conflict, generalised violence or human rights violations must be viewed as one of the greatest individual and public health priorities in Europe today, with new and unique manifestations of distress and vulnerability arising from painful experiences, traumas, culture shocks, and a lack of prospects. Even before the harrowing sea crossings, these people have traversed the desert and come through detention centres, undergoing torture and humiliation. They come from places where war has destroyed their futures.

The Office of the United Nations High Commissioner for Refugees estimates the total number of people from around the world who were forced to leave their countries in 2021 at over 84 million, a steep rise in comparison with the 82.4 million recorded over the course of 2020. At the end of 2022, the number of refugees living throughout Europe from Ukraine alone stood at more than 8.2 million.

The WHO is concerning itself with mental health repercussions on those who are forced to emigrate and with the stigma that goes along with this growing phenomenon. Adults, young people and children have experienced significant losses, suffering and physical adversity, which inevitably give rise—to use a euphemism—to mental health issues. Countries of first entry and host countries thus face a growing call to offer support and take action to nurture the mental health of forcibly displaced persons and to prevent, manage and treat related problems, which occur all too frequently.
This call—which comes on top of internal demand arising from the huge scar left by the pandemic, and from the mental health crisis that had already begun, affecting young people especially, well before COVID-19 broke out—needs to be answered, not simply with emergency measures but with a structural response. This can be done effectively if we adopt a combined strategy, one that draws on all available resources, that involves coordination between reception services and social and healthcare services, with uniform minimum standards and mechanisms for identifying persons in need—especially from within the juvenile population—and taking them into care, including psycho-social care.
A foundation to build on: the fields of culture and creativity
Cultural and creative fields are a resource. Back in 2020, the WHO Regional Office for Europe published the report, "Arts and health: supporting the mental health and well-being of forcibly displaced people", which highlighted the impact of arts activities on the psychological, behavioural and social processes of forcibly displaced persons, as well as on their host communities. Its purpose was to shine a light on their needs and desires (Garry et al., 2020) and on their embodied and lived experiences in a place where numerous axes of marginalisation intersect (Wells et al., 2021), as well as to promote inclusion, cohesion, social acceptance and belonging.
Clini, Thomson and Chatterjee (2019), in a participatory action research study involving refugees/asylum seekers, volunteers, and staff from social support organisations, underscored the impact of the arts in terms of allowing participants to express their thoughts, find a voice, create support networks and learn practical skills.
These viewpoints have been confirmed in a recent publication produced by Culture Action Europe, the WHO Collaborating Centre for Arts and Health, University College London, and the Arts and Health Initiative of New York University, as part of the European Commission's Culture for Health project.

There is a large amount of evidence showing that arts activities can, in fact, play an important role in psychological, behavioural and social processes, leading to improvements in mental well-being. For example, the ability to foster the capacity of forcibly displaced persons to preserve, develop and communicate their identities, their heritage and their own experiences—including those that are painful and traumatic—through art can be of considerable help in maintaining mental balance or finding a new equilibrium.
Social inclusion begins with arts activities
The data collected by Culture Action Europe and by the WHO highlight, in particular, the efficacy of projects based around the participatory arts, the visual arts, dance, theatre, writing and music. Engagement in arts activities has created effective forms of social inclusion and means of belonging for people who have been forced to leave their countries and who have lost everything, as well as, for countries of first entry, ways to foster cohesion and social acceptance.

In medical terms, people who underwent traumatic experiences while fleeing terrible situations and who then engaged systematically in arts activities designed especially for them, showed, on a psychological level, improvements in regulating their emotions and expressing their feelings, in their coping skills, their faith in themselves, their sense of hope, their capacity for imagination, and their awareness of their own mental resources. On a behavioural level, these activities facilitate learning and reinforce healthy behaviours, lessening the difficulties of assimilation into a new context.

Cases in point include: Music Action International, an organisation based in the United Kingdom that creates musical programmes with people living in exile, refugees, asylum seekers and Roma people. Its facilitators have first-hand experience of the impact of war and are trained to support, through music and public performance, children, young people and adults who have survived war, in order to improve their mental health and well-being and to nurture empathy and understanding. Music Action International's projects include the Stone Flowers collective, composed of torture survivors, which has already recorded two albums, and whose live concerts have had a strong impact on their audiences.
Music as therapy
The role music can play for people with traumatic backgrounds of violence and flight is now recognised even in the most official spheres of medical study, and it is the subject of an article by Norwegian researchers Krüger and Diaz, published in The Lancet in 2023.

As the authors point out, music offers young people with traumatic refugee backgrounds a space for self-expression and for strengthening their personal identities, sharing beliefs and fostering hope for a better future in a safe and supportive environment. Regular participation in music activities allows these young people "to express their emotions, build social connections and develop coping skills" for dealing with "everyday challenges, such as attending school or doing leisure activities. Taking part in music activities," the authors observe, "has the potential to reduce prejudice, discrimination, and aggression between groups. Music can also promote cultural understanding and create a sense of belonging."

The article goes on to consider how these potential benefits can be especially important for unaccompanied children—who may have experienced trauma and violence during their journeys—because making music can help them to build social connections with others who have lived through similar experiences. By making and listening to music, children can share their stories and connect with their peers and with adults in a non-verbal way, which is important for expressing emotions and developing language skills when language creates barriers.

"People carrying with them songs from their homeland, lullabies or hip-hop lyrics, also bring with them a very useful 'first-aid kit'. Music as a self-empowering technology can help people in time of crises and war.
As an example, during the so-called 'Arab spring', hip-hop was a driving force for many young people to let their voices be heard."
A joint action is needed at the European level
Today, numerous arts and culture organisations are mobilising all around Europe to support the mental health of young and very young forcibly displaced persons, using methods that are proven and based in experience. However, these organisations remain scattered and, as yet, unable to create solid and enduring alliances with the health, welfare and education sectors. In addition, the support they receive from the public sector, despite the quality of the services they provide, is fragmented, intermittent and subject to sudden cuts.

Nevertheless, there is room for hope that support will arrive from the EU strategies and, in particular, from the European Commission Work Programme for 2023.
In fact, in its call for civil society to provide evidence on this topic, the European Commission stated that: "An investment in improving people's mental health is not an investment in health alone; it means ensuring a more resilient and cohesive European society that puts people first. [...] In order to effectively lessen human suffering and bring benefits to our societies and economies, the EU's actions must go beyond healthcare policies and include all those policies that have an impact on mental health."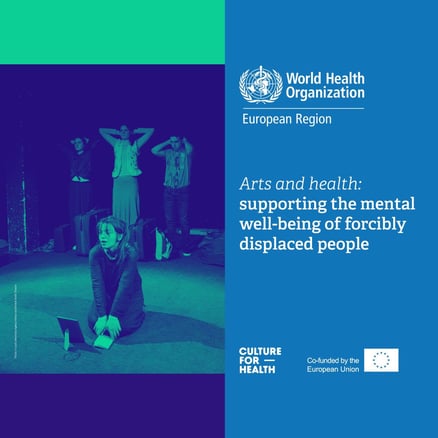 ---
By Catterina Seia with Annalisa Cicerchia and Martina Coroleo
Annalisa Cicerchia, cultural economist, Senior Researcher at the Italian National Statistical Insitute (ISTAT) and Vice President of the Cultural Welfare Centre (CCW)
Martina Caroleo, social worker
"Guarire dal trauma con la musica. Arte per il benessere e la salute mentale dei rifugiati in Europa." ("Healing from trauma with music. Art for the mental health and well-being of refugees in Europe.") Economia della Cultura. Menabò n.192/2023: https://eticaeconomia.it/guarire-dal-trauma-con-la-musica-arte-per-il-benessere-e-la-salute-mentale-dei-rifugiati-in-europa/
Report: https://www.cultureforhealth.eu/news/who-publishes-arts-and-health-supporting-the-mental-well-being-of-forcibly-displaced-people/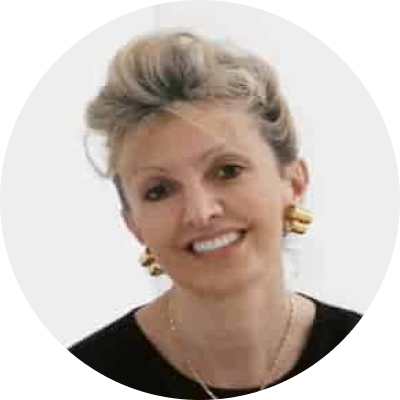 Catterina Seia
Co-Founder and President of CCW-Cultural Welfare Center; Co-Founder and Vice President of the Fitzcarraldo Foundation; Vice President of the Fondazione Medicina a Misura di Donna